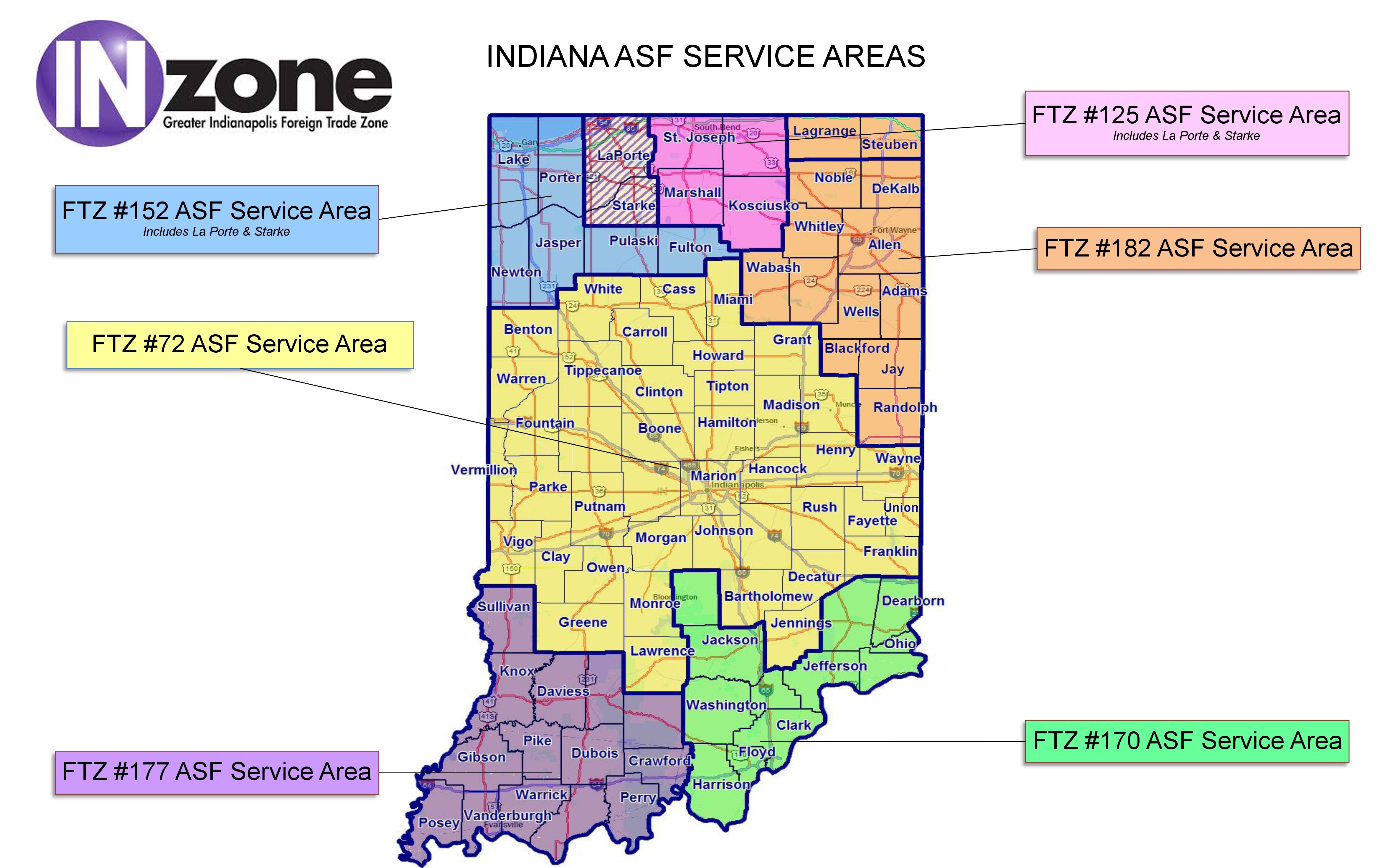 Posted on March 29, 2016
Categories: INzone
At the end of February, Indiana became one of only two states in the entire nation to include every county under an accelerated Foreign-Trade Zone (FTZ) program application process known as the Alternative Site Framework (ASF).
The ASF designation reduces application time down to as little as 30-90 days in Central Indiana, under the administration of the Greater Indianapolis Foreign Trade Zone, Inc. (INzone). Three other administrative areas are under Ports of Indiana, another is under the St. Joseph Chamber of Commerce, and another is under the City of Fort Wayne. The last county to join, Randolph, will be added to this last administration. To learn more about Indiana's grantees and their respective administrations, please visit http://inzone.org/about-us/indiana-grantees/.
According to a press release by Ports of Indiana, there are 41 states approved to use ASF, but only three of those have more than eighty percent of counties approved. The only other state to have complete designation is Delaware, whose three counties are easily dwarfed by Indiana's ninety-two counties.
This unique position as a leader in efficiency for the application process, means significant economic development opportunities for the State of Indiana. Imagine that a site selection team has helped a company narrow down two possible communities for a new distribution center, one in Central Indiana and another in Central Colorado. If at the last minute the company has the potential to secure a lucrative contract with a new client, but that client requires participation in the FTZ program, which location do you think that company would ultimately choose? If they like lucrative contracts, they would choose Central Indiana, which could have an accelerated application for FTZ participation done in as little as thirty days. This shows what a powerful tool the ASF designation has become.
"This innovative approach will help boost economic development efforts and allow more businesses to maximize opportunities to promote growth for international business," stated Tom Henry, Mayor of Fort Wayne, in the report from Ports of Indiana.
For more information on how to apply for the program, visit http://inzone.org/about-ftzs/how-to-apply/.